Gold has always attracted people. In nature, it lies in the form of sand or small nuggets, and extremely rarely - in the form of large ones. The most advanced device for finding such deposits is a metal detector for finding gold.
These devices are in many ways different from ground detectors because they are designed to effectively search for gold and neutralize specific soils, accompanied by which the precious metal comes to the surface. That is, completely different requirements are put forward to these devices, which determine the differences between gold miners and other devices, consisting in internal settings, neutralizing the effect of the soil, and metal identification algorithms. And here we are going to take a look at the top 5 best metal detectors for gold.
Fisher Gold Bug Pro Metal Detector
Fisher Labs, without changing its philosophy, continues to delight with innovations in the field of digital gold metal detectors. Once again, we have the pleasure of seeing not just a professional device for searching native gold at fairly great depths, but a metal detector universal and suitable for searching antiquities, military artifacts, and even imperial coins.
Fisher Gold Bug clocked at 19 kHz. Weight is only 1,25 kg! Looking at the fact that the metal detector is designed to search in hard-to-reach places, its weight will please the search engine.
Without changing traditions, Fisher Lab has made the management of Gold Bug simple and easy to understand, even for newcomers to this business. The uniqueness of the Fisher Gold Bug metal detector lies in the fact that it incorporates a pattern of sequential discrimination, which is the most appropriate and correct when searching for native gold.
(Sequential Discrimination - objects are excluded from the search sequentially one after the other, starting with the lowest-conducting metals and beyond.) Also, the detector boasts inherent soil balancing, which can be implemented either manually or automatically. Detuning the detector from the ground is a fundamental thing when you start a search.
Another feature of the device was the use of a new sound indication system, which made it possible to distinguish low-conducting metals from higher ones by ear. The higher the index, the higher the response tone!
Features:
Type - VLF
Search depth - from 0 to 70 cm
Working frequency - 19 kHz
Coil - DoubleD 11 ″ Ellipse
Power sources 9v (crown type) - 1 pc
Maximum work time - up to 20 hours
The presence of an LCD display
Digital target ID - 0-99
Automatic and manual detuning (balancing) from the ground
Real-time display of the level of ground mineralization GND PHASE
Sensitivity setting
Static mode
Pinpoint
Salt influence elimination mode (inclusive salty water)
Working temperature - from -10 to +50 Weight 1.25 kg
Garrett 1140680 AT Gold Metal Detector
AT gold is a new gold metal detectors for sale, Garrett, designed to search for native gold and non-ferrous metal products. It has an extremely high sensitivity to small targets. The working frequency is increased to 18 kHz, and the diameter of the coil is reduced - such indicators "aim" the device at gold nuggets, "jewelry" and small coins. The device is based on AT Pro, which means the same independence from the search conditions - you can work in the rain, in the coastal zone, under water, in conditions of high pollution and dust.
Features:
The "All Metals" mode offers maximum search depth and high sensitivity to shallow targets.
Graphic analyzer of a target with 20 segments (simultaneous display of the selected discriminator and conductivity of the detected target)
Cross-country vehicle - the device is designed to work in a wet, damp, and dusty environment. Moisture protection provides immersion in water up to 3 m (underwater headphones are optional)
Digital display of target ID (from 0 to 99)
Configure iron discrimination with high accuracy in 40 steps. Allows the most accurate way to adjust the cut point of the iron targets
Adjustable sound threshold
Professional sound modes Pro mode Audio: proportional response and the mode of the swinging sound
Iron sound - allows the user to hear sound from discriminated iron objects at will
The sound of iron in the mode of all metals provides a separate sound to iron even in the mode "All Metals."
Manual soil balancing provides the ability to fine-tune the device to the mineralization of the soil to reduce false positives.
The soil balance window is an exclusive feature that allows you to expand the balance setting and reduce the response from minor changes in soil mineralization
Auto Balance function Fast Track
Targeting function
Depth indicator displays the depth of objects identical in size to the coin
Battery Status Indicator
Search modes: 3 modes + targeting
Includes new coil 5 × 8 "(14 × 20 cm) DD PROformance
3 keys for different types of metal
8 steps of sensitivity adjustment
Minelab GOLD MONSTER 1000 is a high-frequency probably the best gold detector adapted to search in highly mineralized soil. Due to the high frequency - 45 kHz, the sensitivity to small nuggets (0.2-0.3 grams) is very high. This detector was created as the most adaptive system with several different configurations.
This gold finder machine is fully automatic. Therefore, you do not have to adjust the soil balance and threshold tone constantly. So on the search, you will be able to devote more time to the search itself, rather than to the settings.
Features:
Metal detector to search for gold
Fully automatic search mode
Super sensitivity
VLF technology
Adaptability to any search conditions, or to any operator
Manufacturer gives 2 coils at once
Guaranteed quick start, turned on and you're already digging
White's Goldmaster GMT Metal Detector
Compared with the previous models of metalworking metal detectors of this company, the sensitivity to small nuggets is improved due to the introduction of a multi-turn threshold regulator. Simplified and improved ground clearance, which has become more accurate and is performed in 1/1000 increments using the two buttons ("+" and "-") on the front panel.
Arrow indicator and buttons are carried out on the handle. Now gold detector machine owns accurate detection mode. The Whites GMT metal detector has an adjustable auto-threshold speed and a sensitivity range switch. A special phase compensation scheme allows you to adjust the sensitivity without re-tuning from the ground. Using the switch in the handle, you can quickly move from a search for all metals to a search with the exception of iron.
Features:
Operating frequency: 50 kHz.
Modes of operation: dynamic search of all metals, dynamic search with the ability to recognize iron.
- 2 buttons ("+" and "-") ground detuning
Coil - 25 cm (ellipse)
Power - a set of 8 AA batteries for 50 hours of Whites GMT continuous operation
Weight - 1.6 kg
Management bodies:
sensitivity control
operating frequency regulator
threshold control
speed control auto-tuning threshold
sensitivity switch
mode switch
accurate detection button
Tesoro Lobo SuperTRAQ Metal Detector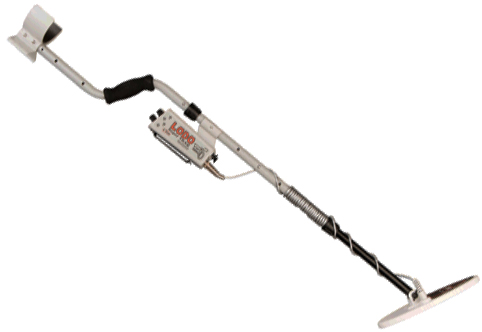 Is it the best gold metal detector? No! This is an excellent long range gold detector! It is extremely versatile. It has 3 different automatic ground detuning modes, thanks to which the metal detector can be used in a wide variety of conditions.
Is it important to search for coins? Still would! Another important addition is that you can change coils, the range of which is quite wide, from concentric to Widescan coils. This feature gives you a great range in your search. And to top it all, you have an excellent depth of detection, accurate pinpointing, and this famous Tesoro signal, indicating that there is a coin in front of you. All the above features together give excellent results when searching for coins.
Features:
Lightweight, body mountable design
Tesoro SuperTRAQ Computerized ground tracking system
All metal, discriminate and no motion modes
Three ground tracking modes, Normal, Alkali and Black Sand
Smooth operation in extreme mineralization
Adjustable threshold control
Max boost sensitivity
Extremely sensitive, deep searching circuitry
Lifetime Warranty
Comprehensive User's Manual
10″ Elliptical Widescan Coil
8 AA Batteries
What is a Gold Detector?
The search for gold using metal detectors to search for gold has been carried out for more than a quarter of a century. Their continuous improvement of technical characteristics helps to find gold nuggets even for non-professional users.
Such metal detectors for gold in a short time examine the terrain and identify precious metal, and sometimes its entire deposits. Gold miners with these devices, for example, can be found on New York beaches.
They go out to their hunt with the onset of the evening, when the coast becomes empty. The peak of such mining falls in the autumn season, especially when the weather is rich in storms and hurricanes. Here, in the sands of Brighton Beach, you can find lost earrings and rings, even with diamonds, because there are ladies who rest there.
Neighboring beaches, where mostly young people are frolicking, can boast of less expensive finds, metal detectors to search for gold are detected here by designer fashion products and bracelets. In New York in the seventies of the last century, a whole league of gold seekers on the beaches was even organized.
How The Technology To Find The Gold Works?
Absolutely all models of metal detectors to search for gold are professional devices created and tuned specifically to search for this precious metal. The frequency of detection, at which they work, helps to identify even the smallest gold particles if it is contained in the surveyed area, whatever the environment.
Therefore, they help to detect small particles of gold, which, together with the ground, goes to the dump after a fishing dredge. To pinpoint a shallow target at great depth is absolutely not a problem for them.
Such gold miners are successfully used in the search for lost gold objects and jewelry on the beaches and in the water. In their mechanism and design, there is a powerful processor which uses a combination of a number of exclusive technologies. High technical characteristics help them to remove the noise present in inhomogeneous soil, which drowns out rather weak signals from gold deposits, helping to identify the noble metal even in mineralized soil.
Metal detectors for gold have fewer functions and settings regarding discrimination, which determines their different target designation. Different models have different depth of search, and although they all differ in extreme sensitivity to small objects, they are able to detect them at different depths.
How To Choose A Metal Detector for Gold?
Depending on the technical and functional characteristics, the cost of these devices is also determined. For example, it will be more expensive to buy a gold digger that can detect a nugget the size of a match head, at a depth of one meter. Gold metal detectors that are more modest in scope are also presented at more modest prices. And even among such professional metal detectors, you can buy a gold miner for the budget series, which, however, apart from the price, cannot boast of either the breadth of possibilities, nor the particular convenience of operation, nor the number of settings and bundling. Here every treasure seeker chooses himself.
On the other hand, experts do not advise to pursue a high price, because if you do not have basic experience in treasure hunting, you can simply not cope with an expensive multi-functional model. For such users, low-cost metal detectors for gold search are more advantageous.
Frequently Asked Questions
Search for gold with a metal detector is a fascinating but unproductive occupation. The metal detector reacts not only to the noble metal but also to other products that are made of metal alloys but are not considered valuable. Search for gold will have a long and hard, debris in the way of the treasure hunt will be a lot, and luck smiles only to the most stubborn.
Search rules
The search for a precious metal with a metal detector takes some time, but before starting work you need to do the next:
Determine the territory to search.
Examine documents from archives.
Explore the terrain features.
The territory to be searched should be clearly defined. The treasure hunter can go to the beach or dump - to the place where precious metal was mined before. If we are talking about the beach, it is better to choose the one that is older. To determine the presence of gold in other places, you must read the documents from the archive.
As a rule, documents from the archive are studied by geologists. They determine the peculiarity of the area and the possibility of being on the territory of the noble metal.
Before starting the search, you should communicate with the local population - it can tell a lot of interesting information, tell about whether nuggets were found in this area or not.
Gold detection by a metal detector can take a lot of time if the device is not properly selected. Some detectors react to a metal that does not have a noble origin. If recycling tons of garbage is not included in the plans, then you can buy a better tool, but also more expensive.
Where to begin?
If a person is puzzled by the search for jewels, not nuggets, then you can start with a study of the beach. Finding jewelry in the sand is not difficult - the population is massively losing rings and earrings, sunbathing by the pond.
Having identified the beach, you can go digging. Gold miners are advised to take a friend or girlfriend with you, as you know, newcomers are lucky.
If the work with the help of a gold metal detector is aimed at finding gold in the bowels of the earth, then it is necessary to determine the territory. Study the features of the area and the presence of precious metals in a separate region.
Gold is rarely located deep underground, in order to find it you do not have to dig half a field or dig a mine. The metal may be located on dumps or in close proximity to the core. For a successful search, it is recommended to travel to places where mining was previously conducted on an industrial scale.
Finding a nugget is good luck, but more often trash is caught in the path of seekers. This should be prepared.
The advantages of this search method:
does not require the purchase of expensive equipment;
you can go digging on your own;
the work does not require preparation.
The seekers of precious metals can sign an agreement with an enterprise that is engaged in the search or mining of gold. In addition, working with a metal detector does not require special training, training does not have to be approached.
The disadvantages of finding gold in this way include:
garbage that can be found in the process;
low chances of success.
The first thing that a searcher faces is a series of failures. You can find a coin, a bottle cap or wire, but not gold. This is easily explained, because nuggets are rarely found in nature, to find such amount of gold using a metal detector is good luck.
Working with a gold metal detector involves hard striving and perseverance; this should not be forgotten. Going to the field for the first time is difficult to find a kilogram of precious metal. But you can find a chain or ring.
Using a metal detector, you can find a precious metal not only in the bowels of the earth, and on the beaches. Some people also successfully use the device for detecting a hoard of coins, examine with his help abandoned houses.
If we are talking about the search for nuggets, then to detect them requires a technique that will feel the gold in the thickness of the rocks. If we are talking about finding jewelry on the beach, then such a device is useless. It is worth noting that the beach search is considered the most promising in terms of finds.